Former Olympic and World champion long-distance runner, President of the Ethiopian Athletics Federations (EAF), Derartu Tulu visited HUSS to sign a two-year cooperation agreement between the two institutions.
Although the summer break is still in full swing, the upcoming 2023 World Athletics Championships to be held in Budapest have made the Hungarian University of Sports Science (HUSS) extremely busy. Our institution offers several high-quality programmes during the World Championships - Coaches Club, Coaches Club Symposium, scientific conference - and the brand new sports facility in Csörsz Street will be one of the main training venues for the World Championships.
Due to the world event, there are more and more foreign sports delegations and professionals are arriving in Budapest. A sports delegation consisting of former Olympic and World Champion ethiopian long-distance runners were hosted by our institution on Tuesday morning for a special reason.
President of the Ethiopian Athletics Federations (EAF), Ethiopian former long-distance runner, two-time Olympic (1992 and 2000) and World champion (2001) in 10,000 metres Derartu Tulu, EAF Deputy President, winner of the marathon race at the 2000 Summer Olympics and World Champion in 2001 Gezahegne Abera, EAF Training and Education Leader Yohannes Engida, Ethiopian Community Organiser in Hungary Dr Tadesse Eyassu and Ethiopian Community Coordinator Dereghe Bekkele visited HUSS to participate in an event where a two-year cooperation agreement was signed.
The Ethiopian delegation was welcomed by HUSS Rector Professor Tamás Sterbenz, General Vice-Rector Dr Csaba Ökrös, Director of the International Relations Centre Dr Judit Kádár, International Coordinator Nóra Széles, International Relations Coordinator Gabriella Sztojalovszky and teacher of the Athletics Department at HUSS member Attila Zsivoczky-Pandel.
In line with the agreement, HUSS and EAF will cooperate in the areas of education, research, athlete development and sports science support. The two institutions will organize joint activities, including workshops, online and hybrid educational programs, academic and sports events. In addition, HUSS trainings, such as the BSc, MS, and PhD in Sports Coaching and the Sports Diplomacy Program as well as some short cycle programs for coaches and athletes will be promote in Ethiopia.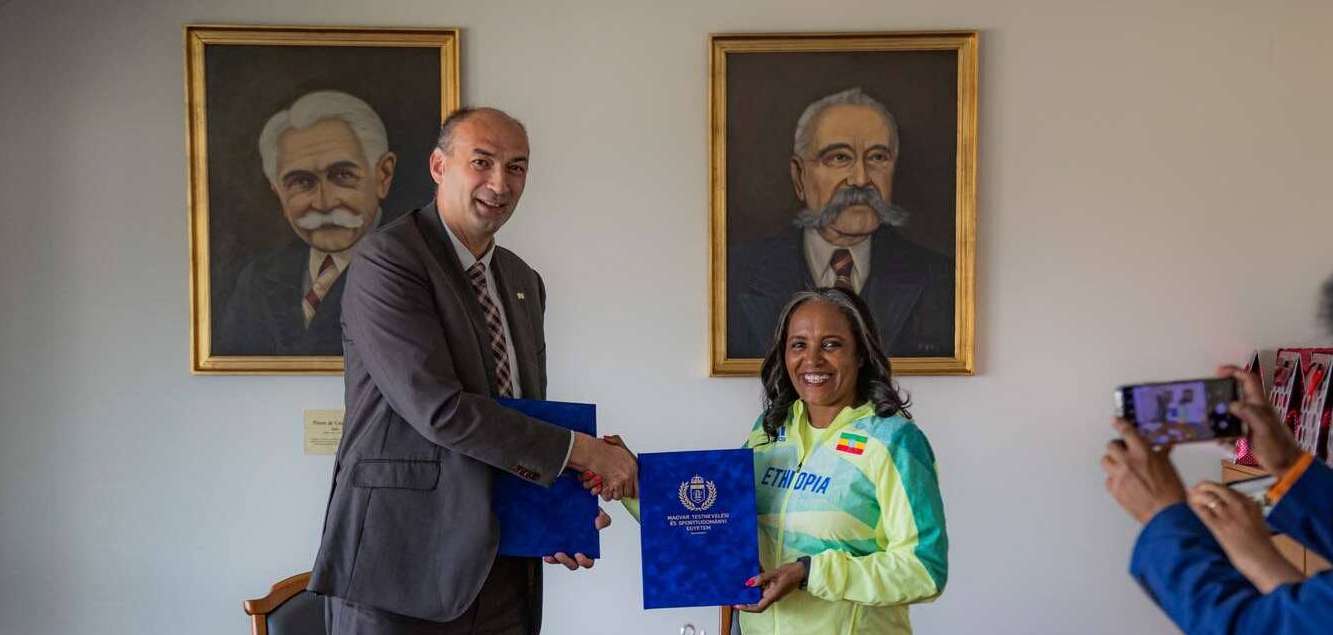 The agreement was signed by Tamás Sterbenz and Derartu Tulu.
"Today is a special day in our university's life as we can welcome a prestigious delegation from the Ethiopian Athletics Federation led by President Derartu Tulu. I believe this is the first time we have hosted representatives of the Ethiopian Federation or any sports organisation. We see a huge unexploited potential in this cooperation, especially in long-distance track and field running. We see opportunities for cooperation especially in the field of sport coach training, but we also welcome Ethiopian students to our sports diplomacy training. We are always ready to return your visit to Addis Ababa and to learn from you," the Rector stressed.
In her welcoming speech, Derartu Tulu said she was extremely grateful that the delegation led by her could be the guest of the Hungarian University of Sports Science.
"Your country should be proud to host such a prestigious world event as the World Athletics Championships. I hope we can leave Hungary satisfied after the event. We are very pleased to have been invited, this is the first time we have been here. As Woldemeskel Kostre, who prepared many Ethiopian runners for various world competitions, and his successor studied in your country at your university, we have been wanting to visit you for a long time. With some exaggeration, I can say that we Ethiopian runners are the products of your university. I believe that athletes and professionals from both countries have a lot to gain from this cooperation. The facilities of the EAF are inferior to those of your university, but we will try to give you everything you need when you visit us. I look forward to our fruitful cooperation", she stressed.
It should be noted here that Dr Woldemeskel Kostre, the coach and trainer of several world-famous Ethiopian athletic runners including Derartu Tulu, studied at our university in the 1960s.
Photo by Gergely Vidor
Video by Eszter Kerekes