A new partnership between The University of Texas at El Paso (UTEP) and the University of Physical Education (UPE) in Budapest, Hungary, will create global opportunities for their students and faculty members who wish to expand their knowledge and research of coaching, sports science and physical education through real-life experiences.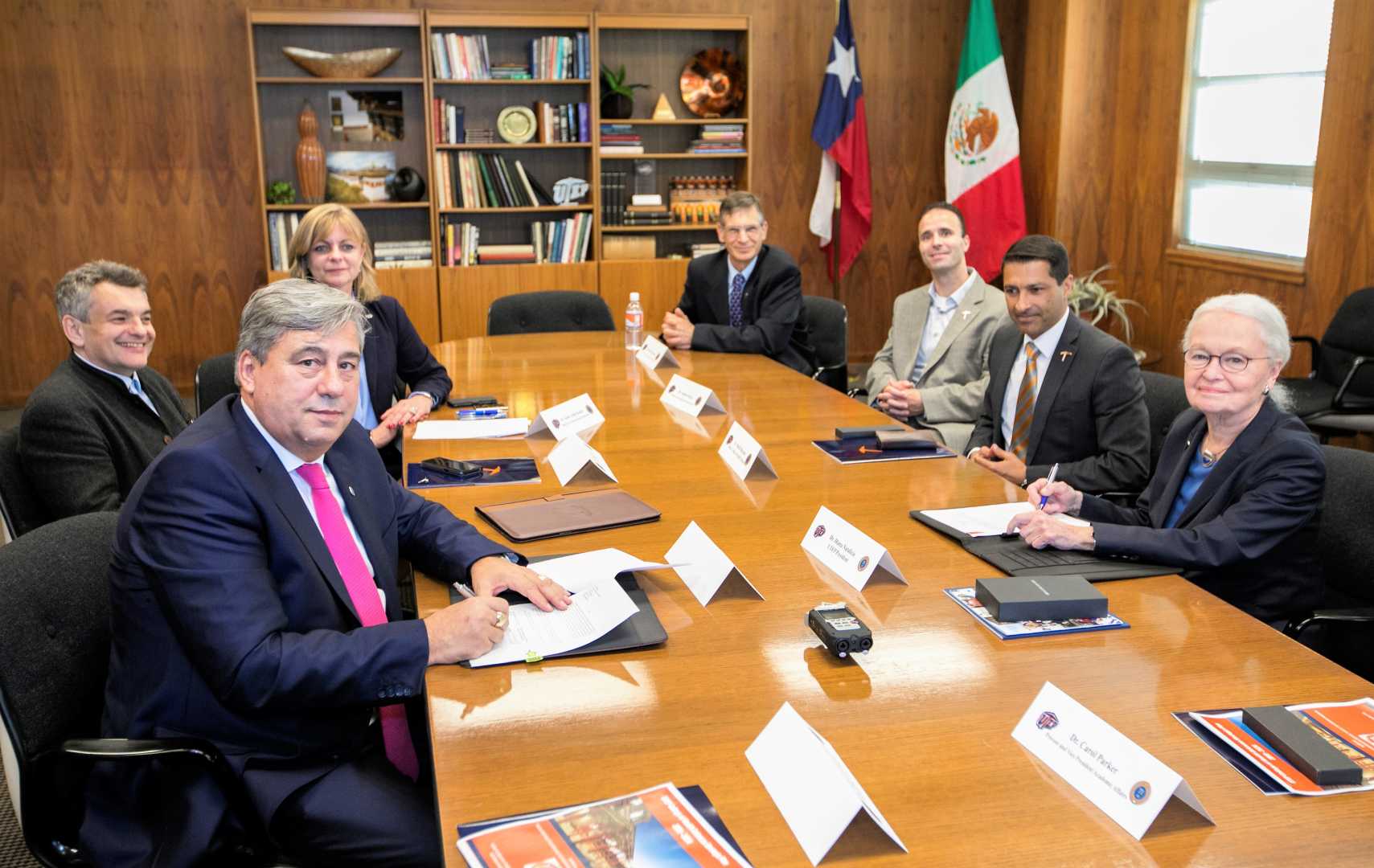 The UPE delegation visited the UTPE campus on 25-26 October, 2018. UTEP President Diana Natalicio and h.c. Lajos Mocsai, Rector of the University of Physical Education signed a memorandum of understanding with UTEP and its Department of Kinesiology that will provide individuals from both institutions with the chance to engage in transnational study and research.
"UTEP serves a student population that is very different from most U.S. universities," President Natalicio told the delegation. "One of the key characteristics of our students is their modest financial means, which often translates into very few opportunities to travel abroad. These international partnerships enable our students to travel to different places in conjunction with their academic programs, thereby enabling them to integrate their academic programs with learning more about the world."
The partnership will support institutional exchanges between faculty and staff who teach, do research and engage in professional development activities. These collaborations will be in person and through video conferences, joint research projects, continuing education programs, interdisciplinary and multidisciplinary research groups, and an exchange program for undergraduate and graduate students. UTEP and UPE also will conduct meetings, conferences, research symposia, and short courses where representatives from both sides will exchange information that pertains to developments in research, instruction and student development. "Both universities have acknowledged and identified those areas particularly in research and education training programs where we can collaborate successfully in the future," UPE's rector Prof. h. c. Lajos Mocsai said through a translator. "And I believe this is going to provide an ample ground to culturally immerse into an intercultural arena of science and education for students and faculty."
During the ceremony, President Natalicio lauded UTEP Kinesiology Professor Sandor Dorgo, Ph.D., for his unyielding efforts to establish the partnership between the two universities. Dorgo earned his bachelor's and master's degrees from UPE in the 1990s. Over the years, Dorgo said UPE had become more innovative and progressive, which prompted him to contact his alma mater to consider collective work opportunities between the institutions. The kinesiology professor said his UTEP colleagues have identified multiple cooperative areas that reach far beyond kinesiology to include biology, public health and physical and occupational therapy.
Meeuwsen mentioned how the new partnership fits into the core theme of global fluency, which is part of the college's new strategic plan. The college wants its students, faculty and staff to strengthen their international awareness, increase and enhance global partnerships with universities and community-based organizations, and facilitate occasions to work, study, and interact with communities on a transnational level.
College of Health Sciences Dean Shafik Dharamsi, Ph.D., said that the college is committed to preparing students to live and work in an interconnected world, and to create more chances for faculty to conduct research that responds to pressing international needs. "Forming partnerships with universities around the world enables us to share expertise, (to) benefit from a diversity of ideas and perspectives, and to work collaboratively to address challenges that face the global community," Dharamsi said.