Let's move together – this was the slogan of University Sports Festival Budapest organised for the first time by ELTE (Eötvös Loránd University), Erasmus Student Network ELTE and BEAC (Budapest University Athletics Club) on 27 November. More than 200 foreign students of 14 higher education institutions of Budapest were training together at the festival in ELTE sports hall.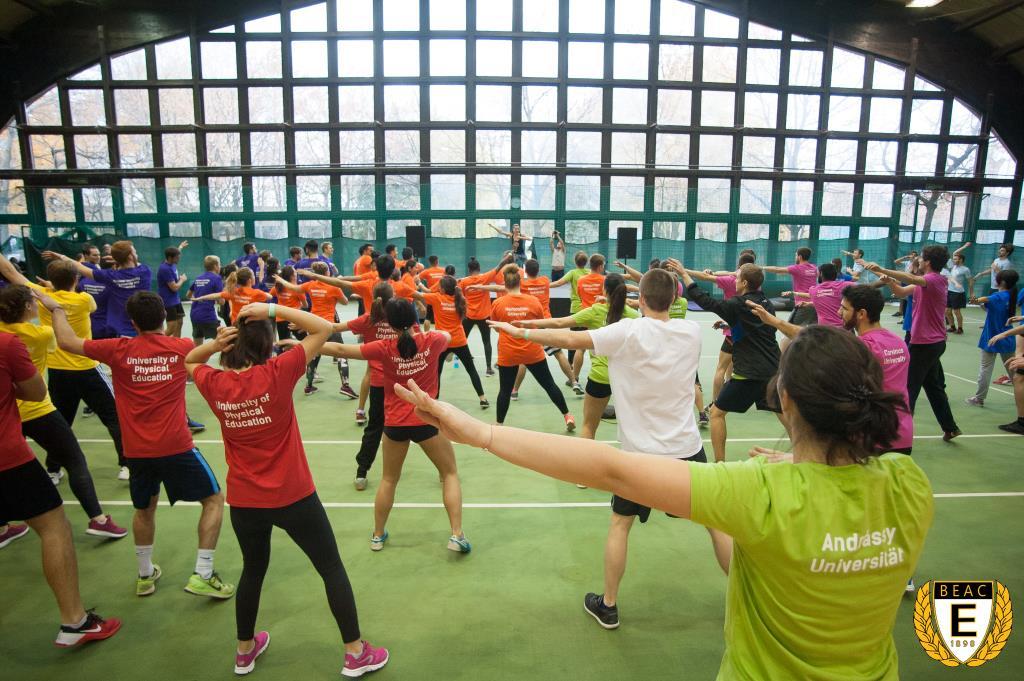 Gábor Simon, managing director of BEAC highlighted that it is equally important for ELTE and BEAC to organise programs that are attractive to foreign students as well. An important strategic developmental goal of ELTE is internationalization, and this event serves the purpose of achieving this goal. As this event, involving several institutions of higher education in Budapest, was greatly successful, organisers plan to make USF Budapest a regular series of events.
The main goal of the festival was to provide a community experience for foreign students studying in the capital and connect young people of different universities and colleges from all around the world. More than 50 nations were represented at the event and foreign students got some insight into sports life at Budapest universities and could try the most popular and brand new sport disciplines in an informal way and in a cheerful atmosphere. Moreover, is not an incidental goal of the event to make Hungary and Budapest an even more attractive destination for foreign students. Participants received valuable gifts popularizing Budapest by favour of Budapest Festival and Tourism Centre and the Hungarian Tourism Agency.
Students had the possibility to try several individual sports besides team sports such as different types of aerobics, combat sports, polefitness, functional circuit training and stability workout. At the end of the day, universities were competing against each-other in the grand final, where Budapest University of Technology and Economics could got on top of the podium and became the first champion of University Sports Festival Budapest. Students of University of Physical Education finally came 8th on the score table.
Organizers offered the income of entry fees for the Budapest Zoo Foundation and the winner team adopted one of the giraffes in the zoo.
Budapest University of Technology and Economics – 1620 point
Metropolitan University – 1540 point
Eötvös Loránd University – 1409 point
Corvinus University – 1377 point
Kodolányi János University – 1350 point
Andrássy Universität – 1072 point
Central European University – 601 point
University of Physical Education – 253 point
University of Veterinary Medicine – 210 point
Semmelweis University – 98 point
photo: BEAC