The International Sports Diplomacy Forum held under the Framework of ISCA TES-D Project at the Hungarian University of Sports Science made a great success.
The Hungarian University of Sports Science (HUSS) celebrated the 50th anniversary of Ping Pong Diplomacy with a unique event held in the framework of TES-D Sports Dipomacy pilot project on Friday, 6 May, 2022. In total, a hundred participants (including those online) from 8 countries took part in the event.
HUSS Rector dr. habil. Tamás Sterbenz and HUSS International Director dr. habil. Judit Kádár greeted the participants and gave a welcome speech. The guest of honor of the event was Balázs Taróczy, consul general in Barcelona, successful sports diplomat ​​and former tennis player.
During the morning section, the participants discussed the concept of Sports Diplomacy and the required skills. Within this framework, Anna Mladenovics, Preparatory Head of the Hungarian Institute in Zagreb, and Sabina D'Ess, International Relations Officer of the university gave a presentation about "What is Sports Diplomacy?". Then István Iglói-Nagy, Head of the Department of Sports Diplomacy at the Ministry of Foreign Affairs and Trade explained the projects led by the ministry on the topic of Sports Diplomacy. At the end of the section, Bence Garamvölgyi, the Managing Director of the Budapest Sports Service Center Public Benefit Nonprofit Ltd., doctoral candidate of HUSS gave a lecture entitled "Grassroots Sports Diplomacy". After the thought-provoking lectures, the guests solved different tasks related to sports diplomacy.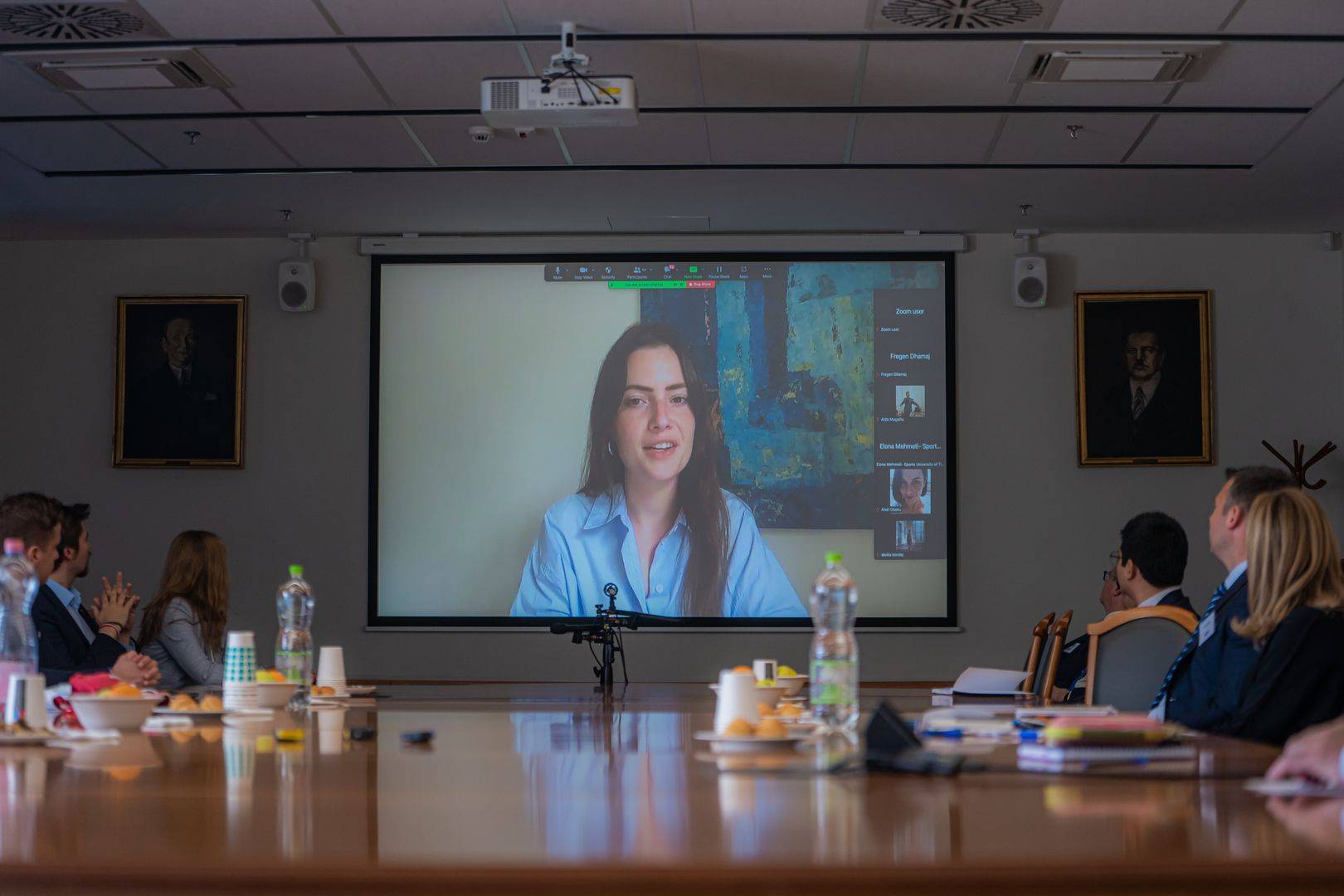 The afternoon roundtable discussion focussed on interesting situations, challenges and good practices of Sports Diplomacy. The section was attended by members of the Ministry of Foreign Affairs and Trade, students and faculties of HUSS Sport Diplomacy Postgraduate Program. The section was also broadcasted online, allowing diplomats from other parts of the world as well as representatives of consulates and HUSS partner institutions to join the conversation. Based on the feedback, the discussions were invaluable for everyone.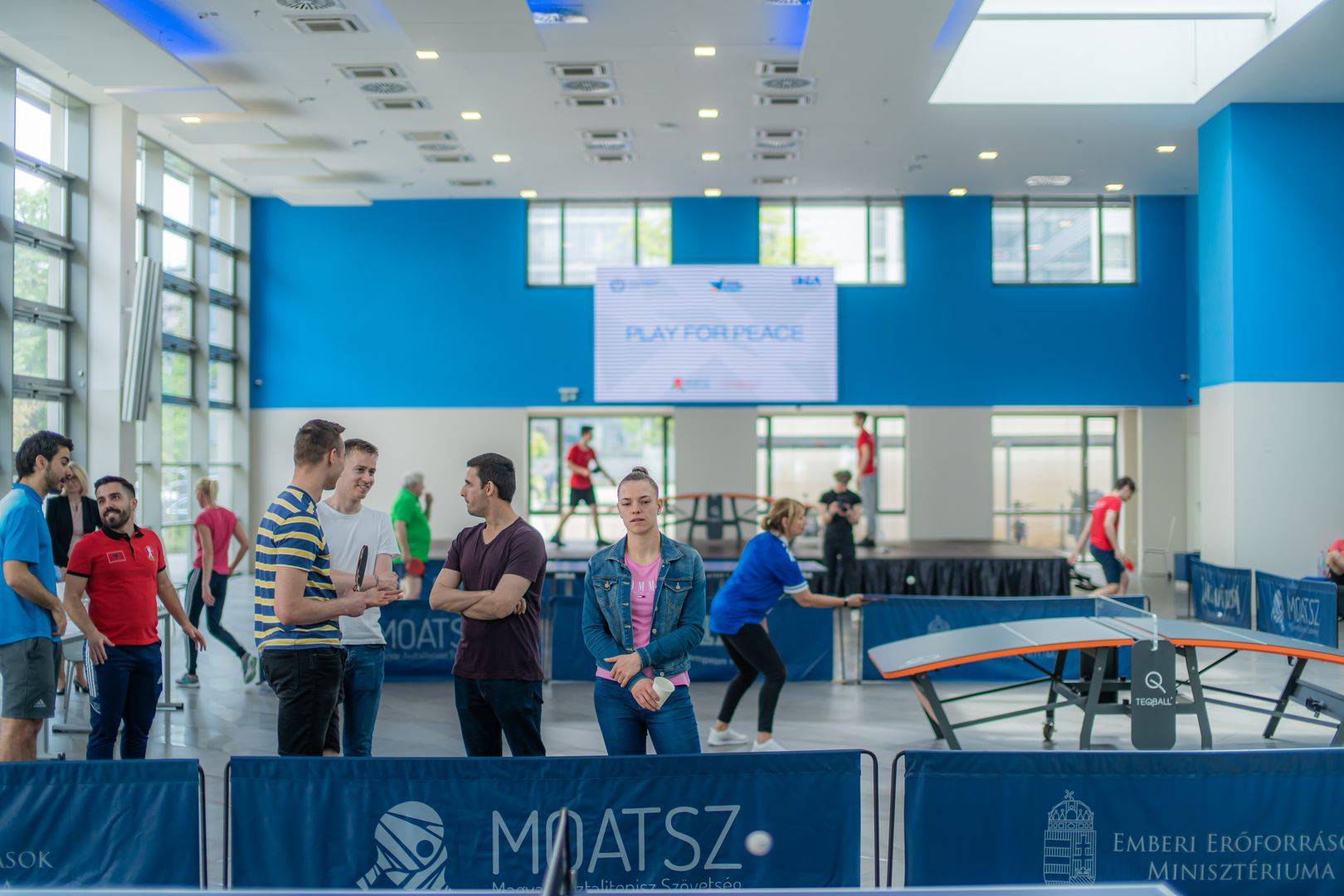 The international mini table tennis tournament and teqpong demonstration titled "Play for Peace" commemorated the 50th Anniversary of Ping Pong Diplomacy and the Hungarian Day of Sports. A total of eight teams played friendly matches in the mini tournament, including the Department of Social Sciences at HUSS. Gratitude goes to the Hungarian Table Tennis Federation and Teqball Ltd. for their great contribution, without which this phase of the program would not have been possible.
In addition to the academic program, the Hungarian Ecumenical Relief Organization held a charity fundraiser for fugitives from the Russia-Ukraine War and disadvantaged Hungarian children. Both the tournament and the charity event made the day of the Hungarian Sports and Sport Diplomacy a memorable and valuable one.
Photo by Gergely Vidor