Dear Student-researchers!
On behalf of the University of Physical Education it is my great pleasure to invite you to participate at the 22nd International Student Congress on Sport Sciences (ISCSS-2016). The congress will be held on the campus of our university, which is located close to the historical area of the city, on the hilly side of the beautiful Budapest, west to the Danube river.
It is a tradition of our University to bring together young student-researchers from all over the world to present their results related to wide areas of sport-sciences. The ISCSS-2016 will provide valuable opportunities to exchange ideas, concepts and research findings, by oral and poster presentations. Also, it is our hope that the discussions will lead to future research collaborations and joint projects among the participants. Previous participants can tell you about the great international spirit and vitality of these Congresses and the fun they experienced in Budapest.
The plenary and invited speakers and the topics are carefully selected by the International Program Committee to represent all important aspects of research related to sport-sciences.
Come and join us at the ISCSS-2016! More detailed information will follow soon. We are looking forward to seeing you in Budapest. Please save the dates!
Ákos Koller (Chief patron of the conference, University of Physical Education)
József Bognár (President of the Student Research Association (TDK), University of Physical Education)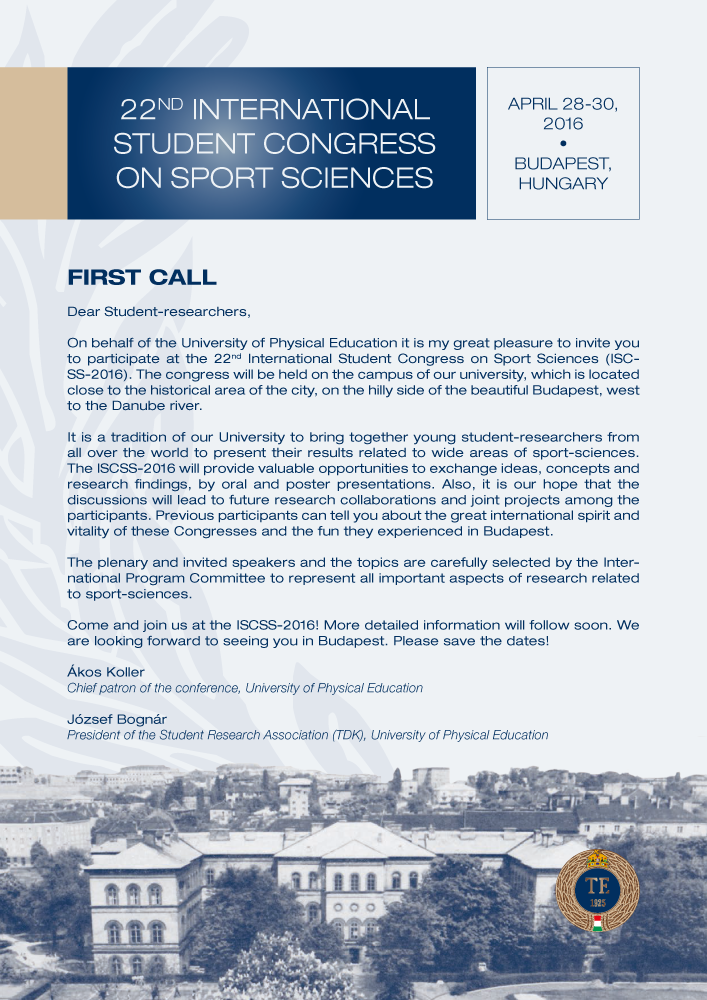 PDF version for printing >>>