Several famous Hungarian athletes and champions provided their handprint for future generations at the Hungarian University of Sports Science (HUSS). The event, which attracted huge media attention, was attended by several prominent sports personalities.
Three-time Olympic fencing champion Áron Szilágyi, two-time Olympic champion canoer Zsolt Gyulay, former Hungary international footballer Zoltán Gera, who made 97 appearances in the red jersey as well as multiple Dakar Rally participant Balázs Szalay and László Bunkoczi had their handprints left on the Wall of Hungarian Sports Stars displayed at the Hungarian University of Sports Science (HUSS).
The guests gathered in the university's hall were first welcomed by HUSS Rector Professor Tamás Sterbenz.
"The athletes providing their handprints have done a lot for the Hungarian sporting community. The Wall of Hungarian Sports Stars is therefore not only a print of hands, but also a symbol of achievement and success. Let us not forget that success also requires an extensive network. Only those who can think in networks can be successful. We are delighted that our university can be one of the centres of this network," the Rector stressed.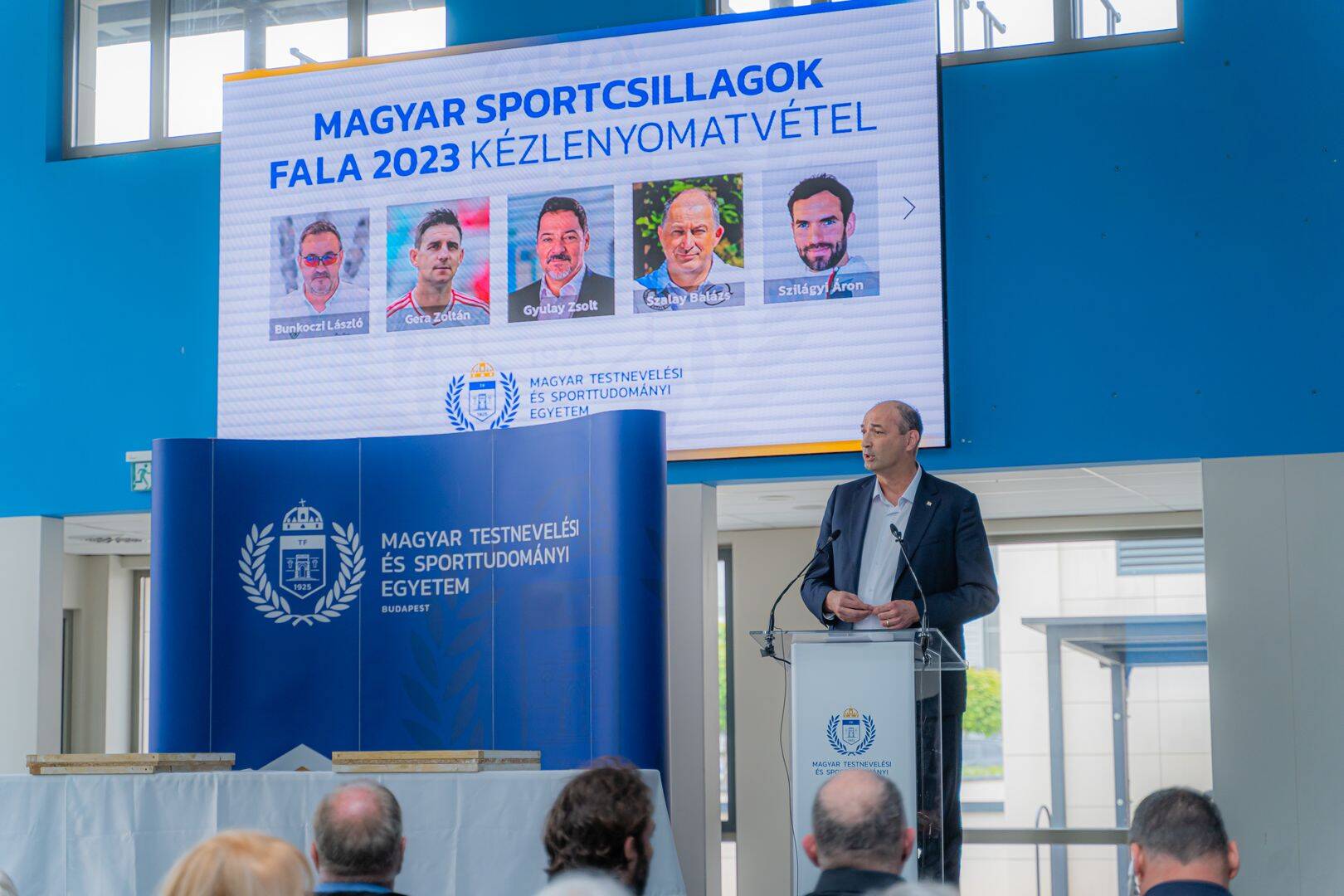 The next speaker was Professor Lajos Mocsai, Chairman of the Board of Trustees of the Foundation for the University of Physical Education.
"The memory of the former Wall of Hungarian Sports Stars that burned down in 2015 left a deep mark on us, but we were not discouraged and managed to recover many handprints from the ruins" he emphasized. "This is a special event at which we reward excellence in a similar way to the Hungarian government that tries to reward outstanding work in different fields. The essential difference between success and achievement is that success is a widely accepted and supported achievement. The champions present here have not only achieved individual success but widely supported successes as well", stressed Lajos Mocsai, who also said a few words about the criteria for talent.
Following the speeches, the participants listened to the video message made by Zoltán Gera and László Bunkoczi, who were unable to attend the event but had provided their handprints earlier. Finally, Zsolt Gyulay, Áron Szilágyi and Balázs Szalay gave their handprints. The event ended with a photo session and a reception.
Photo: Gergely Vidor