A huge crowd turned up in the lobby at the Hungarian University of Sports Science (HUSS) on 21 April 2022 to meet Hungarian Olympic, World and European champion short track speed skater Liu Shaolin Sándor.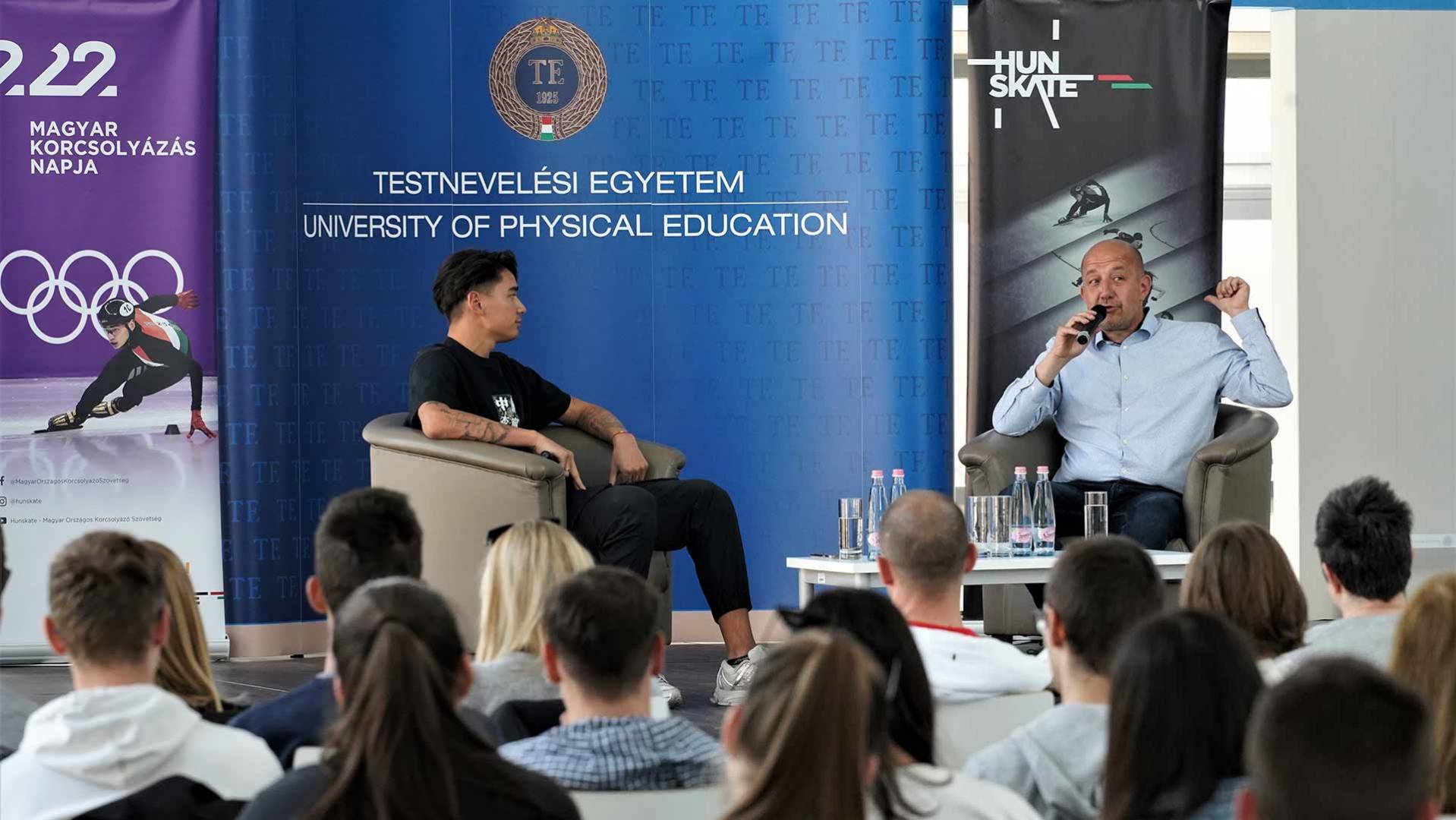 The popular sportsman opened the talk show titled 'One half with Liu Shaolin Sándor' with great sense of humour when he asked the audience if they had already tried the Hungarian scones 'pogácsa'.
He was making a funny reference to the scones piled up on a service tray in the lobby later to be eaten by the audience.
Mr. Shaolin, who was part of the Hungarian short track relay team which won Hungary's first gold medal ever at the winter Olympic games in Pyeongchang in 2018, continued the show with more humour when moderator Dániel Mezei asked him if he liked to be a celebrity. His answer was 'Yes', but he added that he and his two-time Olympic champion younger brother Liu Shaoang are real starts in South Korea and China, in Hungary they are only well-known people.
When asked about the popularity of short track speed skating in Hungary, he said that his and his brother's success has helped to promote the sport, which is still needed, as before the 2018 Winter Olympics, people had little idea about what is really was. He added that the inclusion of short track in the list of flagship sports in Hungary was also an important milestone in the recognition and success of short track in this country.
He has many fond memories of the 2022 Beijing Winter Olympics including his brother's Olympic gold medal and his third place, but he still doesn't understand why he was disqualified post-race for an infringement in the men's 1000m final that he was going to win. Of course, there's a silver lining in all bad things, as after the disqualification his brother's 4th place was upgraded to a bronze medal.
The Beijing story is over, and the new Olympic cycle has just begun. Mr. Shaolin swore to take a revenge on his brother at the 2026 Milan Winter Games.
"After the failures, we have to learn how to pull ourselves together, rebuild ourselves and how to handle success," he said. "After winning the gold medal at the 2018 Olympics, I thought everything would be better and that I would always be happy, but I experienced the opposite instead. I even thought about quitting. After the less successful Beijing Olympics, I'm now wondering what will happen in Milan in 2026".
The happy and informal discussion ended with selfie-making and what else but eating scones.